"Hey Rev! Any chance you can design a cool, standout race outfit for Glen and myself when we walk/run/crawl the Peachtree Road Race on July 4?" Apparently, I didn't realize that posting pictures of your tee designs and Body Combat event costumes will almost surely invite requests such as this. Friends of Tessa know that they will be participating in the Peachtree 2007 Road Race this coming July. Of course, I'm not the type who will decline to such requests. My only limitation would be time, and being involved in a lot of busy-ness… it's one I always wish I have lots of (I even wish I don't have the need for sleep… Imagine what you can do with 6-8 hours!).

Tessa wanted the design to revolve around 30 (she'll be turning 30 soon…), Manila/Filipiniana, 4th of July, Atlanta, Pinoy/Pinay Peach (state fruit of Georgia) etc. This is so interesting and thought-provoking that my mind was already running with ideas as I was reading her message. I remember replying with this "I'm thinking of a shirt design, featuring a realistic Filipinized "peach" (I've been looking at previous winning shirt designs sa race niyo), so if both you and Glen are wearing it, the two of you will be wearing peaches on your shirts... looking good enough to eat. When I mean Filipinized, parang may tatak Pinoy (flag colors, sun and stars) on the peach itself. It will be photo-manipulated work. But it's still an idea... We might go for a more graphic iconic look." It's important for me to write it down, the idea at least. Soon, I found time of actually realizing the idea into a sketch in my notebook: Flying Flaming Pinoy Peach!

Got feedback from her and I found this one quite amusing: "Can you separate the star ball at the bottom left from the big ball of peach/fire? Or is it supposed to be there talaga? It kinda looks like a big nipple when attached to the big ball, hehehe :)" Yeah, it does look like a nipple, haha. A month later, I found time to digitize the sketch, adding in photo-manipulated elements of stamps and digital painting with etching effects. I was going for a striking design, like when you see it, you'll say "peach flambé!" while still emoting Filipino pride.

And the design, as I intended it to look on the shirts:

And Tessa as the model for the shirt: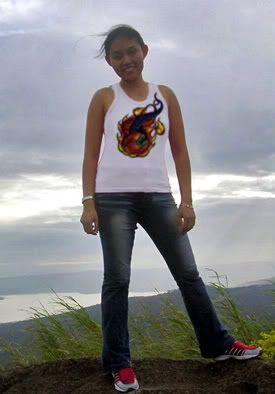 Too bad, I won't have time to actually supervise the printing myself, since I'll be very busy. This will look best printed through digital silkscreen process with embossed rubberized inks for the black outlines. (Especially if it will be mass produced, 'di ba Tessa?) For the meantime, I asked Tessa to have it printed on their shirts through transfer process in time for their race.

Good luck to Tessa and Glen, the Flying Flaming Pinoy Peaches!