The internet has created a vast community of online people busting with life and energy, a celebration of how truly alive, though physically disconnected but virtually united, we are. So, it will come as a surprise that certain websites would offer something out of the norm, take a venture to the "dark side" and actually invest on the idea of death. Now, a start-up online company, MyFinalParty.com will let you keep a log of what you want your death 'celebration' to be like, and then they offer to notify your near and dears when you pass into the unknown.
Since they are still under beta-testing and are still under development, they are currently looking for an image to represent themselves. They wanted a logo style very similar to the company website. Morbid though their theme may be but the logo should essentially represent the celebration of life.
I made a few sketches, coming up ith 4-5 ideas, but will only blog about my "Celebrate Life!" concept which they acquired as concept work, but it is unlikely to end up being used as the primary logo in their website.
I wanted the logo to illustrate a celebration, with a main character being the "life of the party". Somehow, I wanted the idea of a "heavenly party" across the design. Soon, I digitized the design, giving it the gold and blue/gray color palette. Touches of the other colors are present in the confetti in the main logo and text.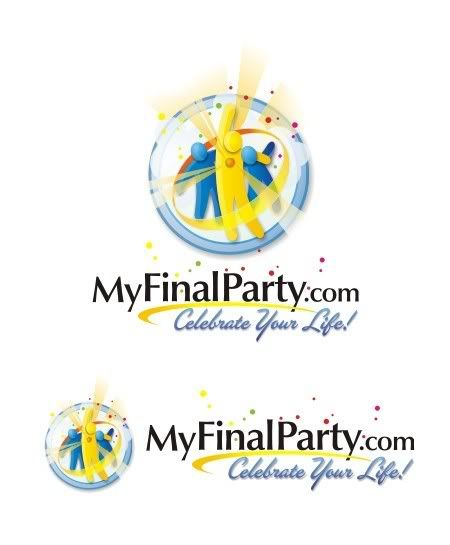 Also presented how it would look like on business card and as a letterhead.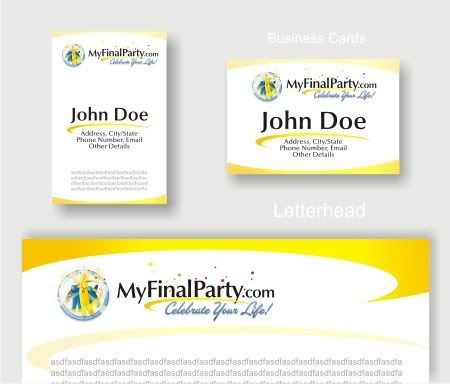 Even though this was not selected as a primary image, hopefully, bits and pieces of this concept will be integrated in their website.