"My name is Rev and I'm a soundaholic. At first no one knew I had this condition. It was my own little secret. Sometimes I hear sounds that dogs can't even hear. I'm addicted to bass. And treble. Midtones are nice too. I went to a lot of doctors and then I discovered there are others out there just like me. I live sound. Every detail. All I need is my Sony MP3 Walkman and my ears." If you know about Sony's latest MP3 player, you would also know that the lines above came from the advertisment. If you found the advertisment amusing and saw yourselves relating to the character, chances are you are a soundaholic too. No idea? Here's the video of the ad:
Readers of my blog would know that a few months ago, I was held up while on a jeepney ride home. I mentioned that my "precious MP3 player" was taken from me, but I wasn't able to accurately describe how "precious" that MP3 player was. It was a Sony NW-E005f, and I had the black version as shown in the image below: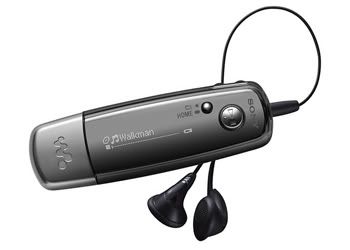 My daily commute and gym session became all of a sudden very dull because I was missing my sound fix. It felt so different not carrying any portable sound device - almost like missing an arm, or walking around town naked. I was on the lookout for a replacement, and I had set my eyes (or more appropriately my ears, a hearout?) on acquiring the new Sony NW-S705f. Sorry, no iPODs for me (never had been an option). iPOD's are nice to look at, but Sony products still provide the best auditory experience. What truly attracted me to the Sony NW-S705f was its noise-cancellation feature. I have to set the volume to the highest levels just to appreciate the music from my old portable devices (CD, MD and MP3 players) above the cacophony of the daily commute. The noise-cancellation feature alone is enough to convince me in buying the new product.

As soon as I had the funds to do so, I ordered online (from Japan actually. Shipping wise plus customs/tax, it was much cheaper than buying it from local Sony retail stores. Besides, these players are not yet available in the Philippines. You have to arrange for a special order.) A few days ago, the package finally arrived. And I had the whole day today to test the features of my new gadget.
1. Aesthetics
The product came in the usual metallic purple box, but much bigger than the box of the NW-E005f. The package I realized was much bigger to accommodate the extra accessories that came together with the product, particularly the USB cord which also served as a charging cable, the larger earphones, and an extension cord. The product looked stunning in its shiny gold and silver finish (I chose the Gold 2GB version to match my K800i Brown Allure phone). Unlike its predecessor, this product looked sturdier, being constructed with a metal frame. It actually looks like a very fashionable lighter, being topped off with a jog dial. Once turned on, play information is shown through an 3 line OLED display. This time around, the device can display album art, albeit its low resolution. Overall, the product is very pretty to look at, a sure head-turner. Too bad, I can't use it as a fashion accessory, because this will surely catch the eyes of the evil ones.
2. Ergonomics
Being familiar with the controls of the NW-E005f, I didn't bother opening up the instructional manual. Indeed changes were done. The volume controls were positioned this time on the front,together with the play/stop button. The shuffle/browse controls belonged appropriately to the jog dial (sweet jog dial), which can be switched in two levels whether you would want to browse through files, or skip through folders. Menu/home buttons was located at the side. Play/sound mode and hold buttons was located at the back. It took some time for me adjust to the changes, but evaluating it objectively (and observing how my friends would attempt to decipher its controls, learning curve), Sony still has to improve on the user-friendliness of this product. In this aspect, iPOD wins. But if you're familiar with Sony interfaces (which I am), you don't have to worry that much.
3. PC Interface
The NW-S705f connects to the PC through a proprietary USB cable. Somehow, I found this slightly irritating because it meant I had to always carry the USB cable whenever I would use it as a storage device for transferring files from my home computer to the work computers. The NW-E005f is constructed with a built in USB connection, so it could be conveniently plugged in directly to computers without the need for extra cables. As most Sony products, music files can only be transferred through the SonicStage software (version 4.2 CD provided), which I found slow and slightly confusing. Again, Sony had to learn a thing or two with regards to software design. Music files can be transferred through ATRAC3, ATRAC, MP3, WMA, AAC, ATRAC Advanced Lossless and linear PCM formats. I usually transfer the files in their native MP3 format and (at least 192 kbps) bitrate, as I found ATRAC to sound slightly inferior. Of course, this results in larger filesizes. But sound quality is more important for me. Which brings us to the next part...
4. Sound Quality
After I uploaded my favorite music to the NW-S705f, I fitted the unusual looking earphones. Unlike the usual earphones, the earbud inserts are angled in such a way that they should plug in directly to your ear canals. You can actually change the soft rubber earpads depending on your ear, but it was explained that in order for its noise-cancellation feature to work properly, the earbuds had to fit snugly within the exterior of your earcanal. I had to choose the large earpads. It was somewhat uncomfortable but pretty soon I got the hang of having earbuds plugged in your ears. I tested the device first without the noise-cancellation feature, and sound quality is already impressive. The device is equipped with Mega-Bass and Clear Stereo features so the music sounded fuller and richer compared when played in other portable devices, Sony or not. It has equalizer functions, so users can customize their sound experience (more treble, more bass, live, jazz, hall, arena, etc...).
I truly appreciated the noise-cancellation feature during the commute. Ambient sounds were greatly reduced which enabled me to focus primarily on the music I'm hearing. No need to turn up the player's volume to compete with the FX's music, because the background music though still audible, just becomes a faded background sound. This feature would only work with the supplied earphones, which are specially built with microphones that listen to ambient sounds. The device then produces a cancelling negative wave integrated into the played music. This thus effectively reduces the ambient sounds (about 75% according to other users). The only other way I think to produce the same experience is by buying the bulky ear hugging headphones, which is very inconvenient in terms of portability.

My dad is an audiophile (somehow, the term audiophile is beginning to be relegated to the older generation, soon to replaced by Sony's tagword soundaholic), and this is obvious from his passion in investing in topnotch music equipment at home. I had him test the NW-705, playing his favorite music. He was amazed and speechless to the point that he asked me if my device is compatible with his speakers in our AVRoom. Unfortunately, I had to tell him that it only works with the supplied earphones. I had to explain to him, geekily, how the earphones worked. This is one of the few things that I had in common with my dad - an audiophile and a soundaholic.
I was truly impressed with the sound quality of the NW-S705f when I listened to my favorite music. I was surprised to hear clearly the sound of Sufjan Stevens stepping on the piano pedal in the seconds right before the first sounds of his pianoplaying in Concerning The UFO Sighting Near Highland, Illinois. I didn't even notice it was there before! Andrea Ross's rendition of Moon River almost drove me to tears. Listening to the music of Ryan Cayabyab's San Miguel Chorale and Orchestra, made you appreciate distinctly the melodies of each vocal group and emotional sweeps of strings ensemble. I found a heightened motivation to exercise by listening to Les Mills music (Body Combat, RPM and Body Balance). OK, OA na ako. But take my word for it, it's surprising that such sound quality could come out from an MP3 player.

This is the main selling and shining point of the NW-S705f and would be enough reason to buy it. The only thing I fear is that "regular usage may result in an uncontrollable craving for crystal clear sound." This device has raised the bar in terms of portabe auditory experience.
5. Other Features
I have been using the device for a day, more or less continuously and the battery indicator has only halved. Sony claims that on a full charge without special features turned on, the device can be used for more than 50 hours. The device utilizes a Li-Ion internal battery. Charging takes a short time and is by attaching the device through USB connection (therefore only through a laptop/computer). Accessories are available ranging from docking stations to other additional cords, which will enable the device to record directly from analogue devices. I'm trying to figure out whether this device (with the necessary accessories) can be used as a voice-recording device. Theoretically, it is possible but not entirely sure whether it will work. The NW-S705f is available in other colors (Black, blue, violet, pink, etc) and storage sizes (1GB, 2 GB and 4GB).

Summary
Sony has produced an excellent MP3 player in the form of the NW-S705f. This device outclasses other mainstream portable sound devices by virtue of its looks and sound quality. However, Sony has to improve more on their ergonomics department, unit and software-wise. So Sony, hire me! I believe that aesthetics can be balanced effectively with function and additional features without making it look like an Apple product.

If only I had a digital video camera at my disposal, I would make my own spoofed up version of the Soundaholic ad. I have a few ideas already ("I like bass"...me hearing someone fart; ("Midtones are nice"...me listening to my fish in my aquarium...) But for the meantime, I have to settle with static art.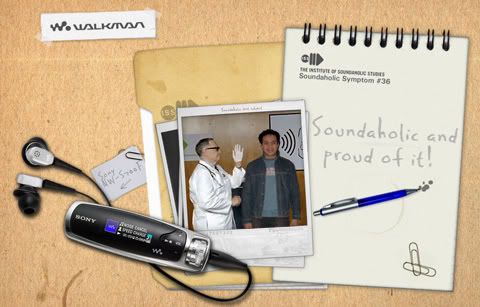 Medyo i-close-up natin ang wallpaper. Hindi ako addict... hehe...