Ambigrams (or inversions, as others would call them) are graphical representations that spells a word or words not only in the form it is normally presented, but also in another direction or orientation. They have gained a boost in popularity after having been featured prominently in Dan Brown's novel, Angels and Demons, as cover design elements and essential visual objects in the story. There are many types of ambigrams, most common of which are the rotational, where the same word would be read when the ambigram is rotated in another angle (usually 180 degrees). Other types include the mirror, chain and 3-dimensional ambigrams, among others.
Y'know, I make ambigrams! I consider it a great exercise in graphic design, a "play in optical illusions, symmetry and visual perception," to the point that I consider it a challenge in undertaking every ambigram project. I call each ambigram a "solution", the problem of which is to figure out the optimum configuration of the graphic presentation of the letters of the word or name even when it is rotated at another angle. It can be very easy to make one, as some words or names are already natural ambigrams by themselves (eg.: "ella" and "suns") but a lot of effort is placed into making a very good ambigram. An ambigram is considered superior in construction if it is not simply "line work" or a "mishmash" of shapes or strokes. It should be legible enough to be read in all its intended configurations.
I never considered making ambigrams before, but I was always fascinated by them (especially after reading Dan Brown's book). My friend Anj, asked me if I knew about ambigrams after seeing an ambigram tattoo on one of her patients. I told her that I knew about them but I have never attempted making one, but I will try to make one for HER… I then studied the work of John Langdom, and considered various approaches into constructing ambigrams, and finally made my first convincing ambigram: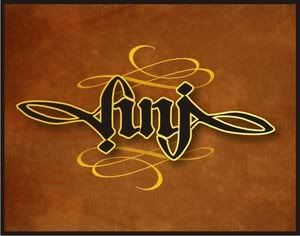 And it all started from there… I have been making ambigrams for friends who request them (and clients who actually pay to have them). I have yet to consider whether I should write my own tutorial on making ambigrams (although there are already many online tutorials out there). But sometimes I wonder whether making ambigrams can actually be taught at all. Here's an ambigram of my FULL name:
Anyway, recently I undertook a massive undertaking which I call "The 50 Ambigram Project", which was a collaboration with Anj (my special birthday gift for her too). The 50+ ambigrams was constructed in a span of 2½ - 3 weeks and was finally set into pins and given to her friends as birthday treats. You would notice that each ambigram was constructed with the character and personality of each person in mind. This was done through careful selection of font style, illustrative embellishments, background and colors used. Nice idea, isn't it? I've been making all sorts of graphics but never thought of setting them into pins. Anj does have the creative knack in thinking up these unique ideas. Impressively, she has already developed her own skill in making ambigrams (good and powerful suggestions!) Seeing the final product, I couldn't help but feel proud, like a dad seeing how beautiful his "babies" are.
For those interested, I accept commission work for ambigrams. Not only will it be a special personal property, but it has the potential of being a unique and valuable gift to your friends and loved ones. Only you or your loved one will have that ambigram. My ambigrams usually cost around $25 to $150, depending on the difficulty level of the word/s or name/s provided, so please contact me first so I can quote a reasonable price (Of course, I'm open to friendly considerations and discounts). The basic package includes the electronic file of the artwork saved in various versions. You can provide your preferences when it comes to font style, background, colors and other special elements used for your ambigram. Special requests are also accepted if you would want to set your ambigrams into pins, frames, mugs, T-shirt or other merchandise.
My ambigrams can be seen in my DeviantArt account at http://revcruz.deviantart.com. Detailed pictures of "The 50 Ambigram Project" pins can be seen at my Flickr account.