In celebration of Valentines Day and the Chinese New Year, Fitness First MetroEast organized the Dragonfest Body Combat Marathon last February 15, 2007. It was a 2-hour long (lasted from 6PM to 8PM) non-stop Body Combat event. Body Combat is Les Mills' "fiercely energetic program inspired by martial arts and draws from a wide array of disciplines such as karate, boxing, taekwondo, tai chi and muay thai." A normal scheduled class usually lasts an hour, but events like these lasts longer, so think of it as 2 back-to-back combat classes in one straight run! Of course, I am not one to miss this event, especially since it's been quite a long time since such an event has been organized.
Training for the event was no problem for me since I've been attending combat classes almost regularly, and if I fail to attend a class, a video and downloaded music is enough guide for me to do the classes at home. The recent release of combat really triggered an upsurge in the number of participants in the classes, and combined with its wonderful musical tracks and new martial art moves (first introduction of the capoiera!), my love for Body Combat, became already an obssession. Yes, I have memorized the choreography for most if not all of the tracks of the recent releases already. Also, I have also been faithfully rowing the ergs at the gym, this time increasing my regular distances to 10,000 meters per run (that's around 42-45 minutes of indoor rowing), training up for a half-marathon (21, 097 meters) and eventually a full marathon (42,195 meters!).
Of course, what I have been truly preparing for was the opportunity to wear and design a new combat attire attuned to the theme of the event: Dragonfest! Some of you would remember the combat attire I designed in my previous post "If you're gonna be sick, be sick with this!" where I also mentioned I bought my new Nike Free 7.0 shoes. I thought of brewing up a design built around the base colors of my shoes, which has become my regular shoe of choice whenever I attended combat classes: red and black. I drew this design, again, during an EXECOM Meeting, and as he did before Mitch also drew his own version (Igorot!) of my idea: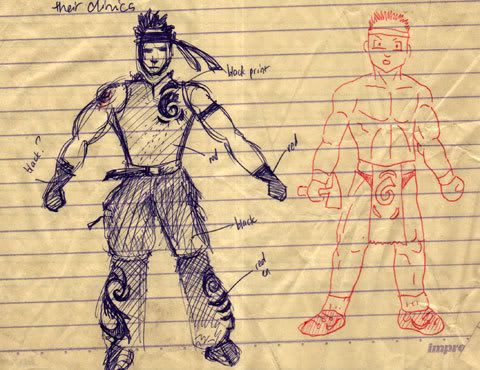 Now, Project Runway... The details in the costume would basically revolve around the concept of my earlier tattoo design entitled "Dragonfire". The pants and the top would be easy to acquire but the major challenge for this costume was how to put the detail on the apparel. Initially, I thought of having the design emboidered, but this would cost a lot, considering that this is a customized design. So that was out of the question. I thought of doing the embroidery work myself (and of all the faculty in CAMP who would teach me emboidery, it would be Sir Bal! Sir Bal knows how to do embroidery!), but the time constraints did not allow me to do that. So it all boiled down to basically spraypainting the design over the shirt, and have the design stitched on the pants using colored fabric. Of course, cost has to be kept to the minimum.
Pants were bought from Plazafair for P500, sale price, and the red cotton shirt was bought from SM Department Store for P199. Spray paints used were already acquired at home (originally going to be used to repaint my laptop), and the fabric was recycled from an old portfolio envelope. Here's the process, until the final product:
I had to run from Montalban so I could reach Fitness First MetroEast in time for the scheduled Dragonfest Body Combat Marathon. I had to register, freshen up and prep... I was more or less prepared for the 2 hour long exercise, except for deep inflicted bruises on my left biceps and right deltoids (don't ask why...). The event was well attended, the gym hall was at full capacity. Somehow, I was fearing that people might hit each other... I was afraid I might kick another participant unknowingly. The gym hall was jumpacked, I had to position myself near the back, among the "titas" and "newbies". My combat addict friends were all positioned at the front. I brought my camera to get pics of the event, however, I wasn't able to get action shots of the event itself since I myself was the participant. I was hoping my gym buddies Aimee and Jun would be there to cheer me on, pero they were either sick or busy at that time. Oh well, I was on my own and I did my best, I think. Here's the before and after (winners) of the event:
The marathon ended promptly, and somehow I wasn't that exhausted at all... I was even looking for more action! Anyway, I didn't win anything... my costume was shunned in favor of the cliche fatigue look, and since there would only be a champion (1 winner) for each category, I wasn't good enough. But you know, one of the judges/organizers actually approached me after the event and showed me the scorecards. If there was a 2nd place, I would be the unanimous 2nd place winner for the male junior division. That was enough consolation for me, even if I didn't receive any prize or trophy. The knowledge alone that I finished 2nd place is enough prize for me.
But wait, why do I always have to settle for 2nd place (as I remember, the last time I joined the semis for the Ultimate Body Combat Marathon, I was also 2nd... and so it goes for most aspects of my life)...am I not good enough? So what's next? Body Combat Instructor auditions on Feb. 24, 2007 at Fitness First Ortigas. Hoping to pass, but if not, it will surely be a good workout anyway.