MOLESKINE
IS THE LEGENDARY NOTEBOOK, USED BY EUROPEAN ARTISTS AND THINKERS FOR THE PAST TWO CENTURIES, FROM VAN GOGH TO PICASSO, FROM ERNEST HEMINGWAY TO BRUCE CHATWIN." That's what the company says about their notebook. And it still goes "This trusty, pocket-size travel companion held sketches, notes, stories and ideas before they were turned into famous images or pages of beloved books. "
I've known about this brand of notebooks for years now, but I have never quite come to the point of actually deciding to purchase one of their notebooks until recently. Their notebooks are after all very expensive, and you will indeed have to think twice before buying one. But after receiving my first Moleskine from Moleskine.ph, I realized what the buzz was all about, and the praises it had received are indeed worthy. The price is justified. It comes strongly bound in an oil-cloth carboard with an elastic band to hold the notebook closed and a sewn spine that allows it to lie flat when opened. The silky paper is impressive, in that although it is surprisingly thin, ink does not smudge on the other side.

I have owned a lot of notebooks – from the ledger types (which housed my ideas, doodles, poems, writings…) to huge sketchbooks, so I found the transition to Moleskine a naturally pleasant one. My writings and art has found a commendable home.

There is a huge community of Moleskine users all around the world, ranging from websites and photo groups. Moleskinerie recently featured one of my spreads entitled "A Brief History of Cats":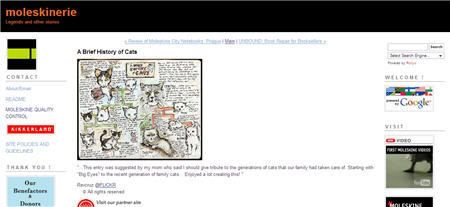 "suggested by my mom who said I should give tribute to the generations of cats that our family had taken care of. Starting with "Big Eyes" to the recent generation of family cats... Enjoyed a lot creating this!"

My other Moleskine entries can be seen at Flickr.