It's the time of the year again when InKies showcase their obsession for creation through the power of children's illustration. The 21st Annual Exhibition of Ang Ilustrador ng Kabataan (AngI.n.K.) is entitled "Mabubulaklak na Dila: Mga Sawikaing Filipino" and here we illustrate various distinctively Filipino idiomatic expressions. Seeing the previews of the submitted works of art, I couldn't help but be excited to see how the participating artists interpreted more than 50+ "sawikain" This is surely going to be one entertaining exhibit! And entertaining is the apt word because your eyes and mind will feast on the variety of styles: from the intriguing, controversial and mysterious to the literal, ridiculous and humorous treatment.
You're invited to visit the exhibit and look at the masterpieces. If you like, play a little game. Try to guess the "sawikain" correctly without looking at the title card of the painting and see how well you score! (That's what I'm gonna do!) Better yet, if you like the paintings, you can bring them home (but leave some money, we worked hard for our babies).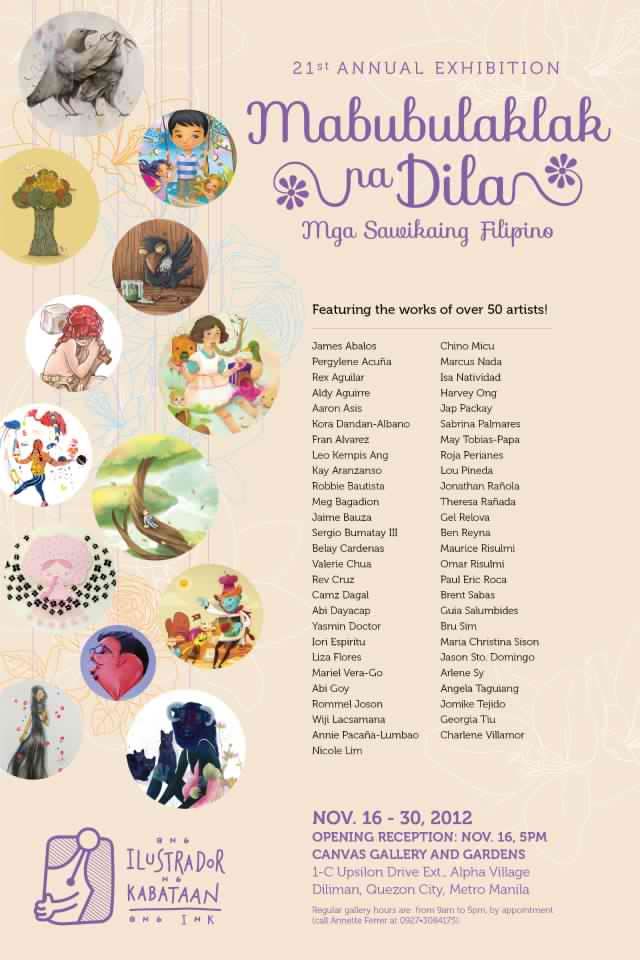 The show runs from November 16-30, 2012 at
CANVAS Gallery and Gardens
. Opening reception is on November 16 5PM. See you guys there!